by Parker J. Palmer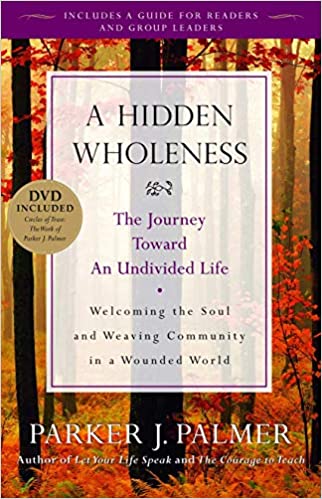 Learn more and purchase from:
In A Hidden Wholeness, Parker Palmer reveals the same compassionate intelligence and informed heart that shaped his best-selling books Let Your Life Speak and The Courage to Teach. Here he speaks to our yearning to live undivided lives―lives that are congruent with our inner truth―in a world filled with the forces of fragmentation.
Mapping an inner journey that we take in solitude and in the company of others, Palmer describes a form of community that fits the limits of our active lives. Defining a "circle of trust" as "a space between us that honors the soul," he shows how people in settings ranging from friendship to organizational life can support each other on the journey toward living "divided no more."
This paperback edition includes two new and useful features. Circles of Trust is a DVD containing interviews with Parker J. Palmer and footage from retreats he facilitated for the Center for Courage & Renewal (www.CourageRenewal.org). Bringing the Book to Life, by Caryl Hurtig Casbon and Sally Z. Hare, is a reader's and leader's guide to exploring the themes in A Hidden Wholeness. The DVD illuminates and illustrates the principles and practices behind circles of trust. The guide includes questions that connect the DVD to the book, offering "a conversation with the author" as well as an engagement with the text. Together, these features give readers new ways to internalize the themes of A Hidden Wholeness and share with others this approach to sustaining identity and integrity in all the venues of our lives.
Inspired by Palmer's writing and speaking―and challenged by the conditions of twenty-first century life―people across the country, from many walks of life, have been coming together in circles of trust to reclaim their integrity and help foster wholeness in their workplaces and their world.
For over a decade, the principles and practices in this book have been proven on the ground―by parents and educators, clergy and politicians, community organizers and corporate executives, physicians and attorneys, and many others who seek to rejoin soul and role in their private and public lives.
A Hidden Wholeness weaves together four themes that its author has pursued for forty years: the shape of an integral life, the meaning of community, teaching and learning for transformation, and nonviolent social change. The hundreds of thousands of people who know Parker Palmer's books will be glad to find the journey continued.