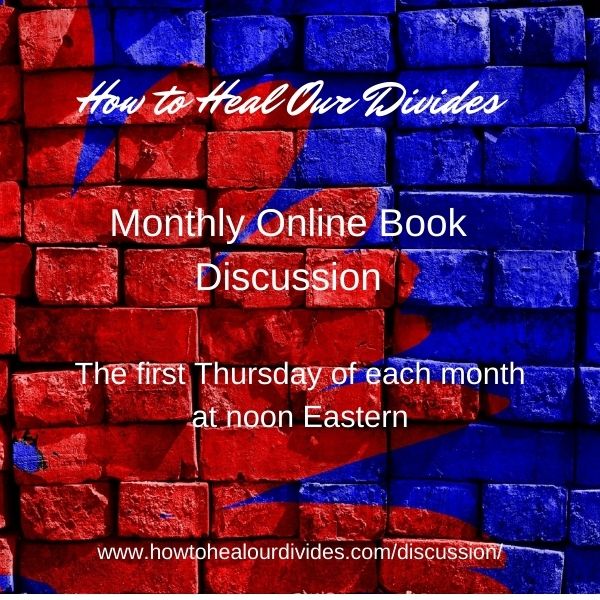 Join the "How to Heal Our Divides" monthly book discussion group! This free online discussion group takes place via Zoom on the first Thursday of each month at 12 noon Eastern time (exceptions noted below).
At each month's discussion we feature a guest moderator interviewing one of our "How to Heal Our Divides" book contributors. Here is the lineup for the next few months:
Here is the Zoom link for each live session. Recordings of previous group discussions can be found below.
If you would like to receive an email reminder the day before each discussion session, you can sign up for that here.
Many thanks to Bethanie Baker Henderson for coordinating these sessions!
Click on the date to view previous book discussions:
May 2022 – Featuring Catherine Meeks (Absalom Jones Center for Racial Healing) , Roger Hutchison, and Bethanie Baker Henderson
April 2022 – Featuring K Scarry (The People's Supper), Marva Smith, Bethanie Baker Henderson, and the HTHOD Book 2 cover reveal!
March 2022 – Featuring Frank A. Thomas, Patricia Williams, and Bethanie Baker Henderson
If you would like to hold your own book discussions, we have a free Group Discussion Companion that accompanies the book – download it for free here or order a print version here. The discussion guide is organized into 4, 6, or 8 week long group discussions. Book coordinator Brian Allain is glad to visit with your book discussion group or church group via Zoom!