by Jana Riess – Oxford University Press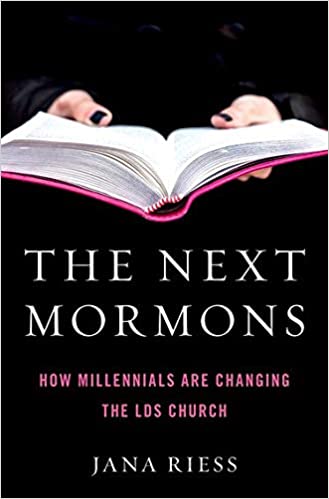 Learn more and purchase from:
American Millennials–the generation born in the 1980s and 1990s–have been leaving organized religion in unprecedented numbers. For a long time, the Church of Jesus Christ of Latter-day Saints was an exception: nearly three-quarters of people who grew up Mormon stayed that way into adulthood. In The Next Mormons, Jana Riess demonstrates that things are starting to change.
Drawing on a large-scale national study of four generations of current and former Mormons as well as dozens of in-depth personal interviews, Riess explores the religious beliefs and behaviors of young adult Mormons, finding that while their levels of belief remain strong, their institutional loyalties are less certain than their parents' and grandparents'. For a growing number of Millennials, the tensions between the Church's conservative ideals and their generation's commitment to individualism and pluralism prove too high, causing them to leave the faith-often experiencing deep personal anguish in the process. Those who remain within the fold are attempting to carefully balance the Church's strong emphasis on the traditional family with their generation's more inclusive definition that celebrates same-sex couples and women's equality. Mormon families are changing too. More Mormons are remaining single, parents are having fewer children, and more women are working outside the home than a generation ago.
The Next Mormons offers a portrait of a generation navigating between traditional religion and a rapidly changing culture.
"…excellent statistical study of Latter-day Saints … Recommended" — CHOICE
"The Next Mormons is a spot-on book that can be profitably read by both Mormon and non-Mormon readers interested in the prospects of contemporary religion in modern America." — Gordon Shepherd, Reading Religion
"The Next Mormons illuminates a church changing from below. The numbers are impressive. The prose engaging. The analytical insights profound. Although no one can predict with any certainty what the Church of Jesus Christ of Latter-day Saints will look like a quarter century from now, this study offers a layered portrait of the contemporary church and a gentle reminder that past does not always predict the future." –Laurel Thatcher Ulrich, Author of A House Full of Females: Plural Marriage and Women's Rights in Early Mormonism, 1835-1870
"The Next Mormons is a tour de force, replacing folklore with fact. If you are a practicing Mormon, read this book for a peek into the rising generation within the LDS Church. If you are an LDS leader, read this book to understand the challenges that are on the Church's horizon. If you are a former Mormon, read this book to see how your story lines up with those of others. If you are not LDS yourself, read this book to understand one of America's most fascinating religious groups. And even if you think you have no interest in Mormonism, read this book for insight into any religious subculture grappling with a rapidly-secularizing America." –David Campbell, author of Seeking the Promised Land: Mormons and American Politics
"Riess (The Prayer Wheel), a columnist for Religion News Service, captures the attitudes and beliefs of American Mormon (and former Mormon) millennials in this substantial work . . . Though based on rigorous research, the book remains accessible to the lay reader due to interviews and informal introductions. Riess goes light on theory, but she is responsibly cautious in her conclusions and analysis, providing unique insight into the modern evolution of Mormonism." — Publisher's Weekly
"The heart of the book is somewhat stripping and has provoked a mini-storm in the Mormon studies as the interest of religious sociologists…. [a] well-researched book." — Blandine Chelini-Pont of IDEAS